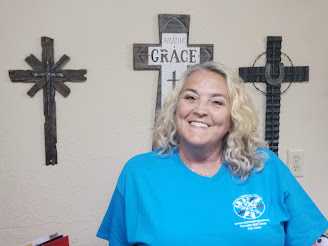 Lana
January 4, 2023
I was homeless and hopeless for about 5 years, and in April of 2006 I was sick and tired of living that way. I didn't want to live but didn't want to die. While I was homeless, I felt lost and without hope, was unemployable, had no self-esteem and couldn't see a way out. For 5 years I went without a loving hug or anyone speaking hope into me. At that point, I cried out to God, and he heard me. As a result, I am an example of someone making it off the streets and I am now doing God's work. My mission is to give hope to our homeless friends and show them the love of Jesus.
Hello, my name is Lana Hansen, and I am the founder and Executive Director of the Many Helping Hands ministry. We serve the needs of the homeless in our city of Irving, TX. There were no services in Irving for the homeless, so we started serving in 2012 and formed Many Helping Hands Ministry shortly after.
Let me tell you a little bit more of my story...
One night I cried out to God and He answered, and He brought me to a homeless ministry in Downtown Dallas. When I walked on that parking lot, God spoke to me and said, "this is what you are going to do." For many years, I volunteered weekly at that Ministry since that day in February 2007.
After moving to Irving, God brought me to a small biker-friendly Church called Hope Irving. I was still serving at the downtown homeless ministry on Sunday mornings. In 2009, my pastor told me to take our church van and bring my homeless friends to Church. This was the beginning of our homeless ministry in Irving. We began to regularly invite Irving homeless to Church and we would provide a meal after services. Back then, they had no access to hot meals anywhere in the city. We quickly realized there was a lot more we needed to do.
In 2012, we reached out to Churches in Irving to begin discussions about starting something in Irving. Partnering with Good Shepherd Lutheran Church and Heartland World Ministries, we scheduled our first winter clothing event in December 2012 and have continued it annually ever since. Think about not having coat or warm clothes. At that time, we learned there were no services or hot meals for the homeless population in Irving. In June of 2013, we started our Thursday Night Feed. We have not missed a Thursday dinner since, including Thanksgiving and Christmas. In 2014 we formed a non-profit called Many Helping Hands ministry. We now have 20 Irving churches and other organizations working together to serve the needs of our Irving homeless people. We are now serving 75+ clients every week.
In early 2017, we obtained a small office space on Irving Blvd. Having our office has allowed us to help clients get their ID's. Having an ID opens possibilities for employment and hope to get a place to call home. Once they get their apartments, we do our best to provide furniture, kitchen and bathroom items and any other basic needs for their new home. You should see their faces when their apartment is filled up with all these wonderful, donated goods.
At our Thursday night dinners, we provide a hot meal, Parkland bus for healthcare, socks, underwear, hygiene items, books, clothes, shoes, sleeping bags and other requested needs. We also have implemented an inclement weather plan in our city, so they won't freeze to death on the streets.
God gave me a vision of a Day Center for our friends without homes. We prayed for the vision, knowing it is in God's timing not ours. My vision came to fruition in July 2022.
Because of my experience of being homeless for several years, my mission is to give our clients hope for their future. The day resource center is a place where they can take showers, do laundry, have a hot meal, Bible study, haircuts, counseling and be mentored to help get jobs and ultimately get off the streets. We are currently open 3 day's a week and are averaging about 25 to 30 people each day.
Our Mission is "Changing Lives through Christ, One Meal at a time."
Changing lives of the Irving homeless community, both sheltered and unsheltered, through Christian based, compassionate, relational, and personal service.